SARVA
SARVA Month 2017
Check out our events for SARVA Month 2017!
Find SARVA Month on Facebook
It's On Us Kick-off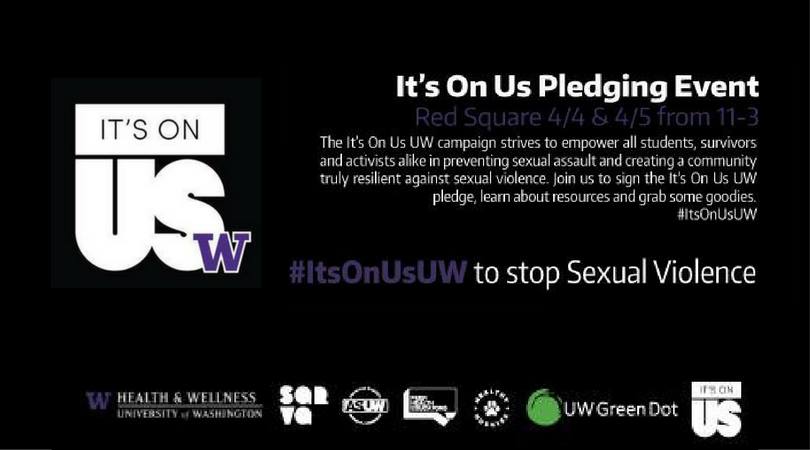 Hosted by: SARVA, PHEs, Healthy Huskies, Green Dot
Description: Come visit us in Red Square and take the pledge! We will be handing out T-Shirts, stickers, and candy. If you have already taken the pledge, show us your confirmation email and you can grab a shirt as well!
Check out our pledge here: https://goo.gl/forms/zoD9MQ1MwSXojksp2
It's On Us is a national campus sexual violence awareness campaign. Launched by the White House in 2014, It's On Us tackles the issue of sexual assault head on by empowering college campuses to speak out, be active, and recognize that it is on all of us to prevent sexual assault and rape culture.
Date: Tuesday and Wednesday, April 4th and 5th
Location: Red Square
Time: 11:00AM-3:00PM
Relationship Violence and Emotional Abuse Flyers/Postering/Tabling
Hosted by: Haley
Description: The purpose of this campaign is to promote healthy relationships in order to help our community identify signs of unhealthy relationships. Date Wise, a campaign on relationship violence will include two days of boothing Monday April 10th and Wednesday April 12th 10:30-3:30pm outside the HUB providing resources, pamphlets, a survey, information on relationship violence and sign up for more SARVA information. The campaign will also include a series of informational posters displaying the red flags for unhealthy relationships, resources, a QR code link to a survey and statistics.
Date: Monday and Wednesday, April 10th and 12th
Location: Outside of the HUB
Time: 10:30AM-3:30PM Both days
Art of Surviving
Hosted by: Logan
Description: The Art of Surviving is a workshop for survivors and others affected by an assault (friends, family, etc.) to come together and work to express their emotions through painting, drawing, and other artistic modes. The goal is to create a piece or collection of pieces to be displayed around campus in order to spread awareness. This is meant to be a safe and open space, and you are not required to participate or share if you attend. We will provide items to decorate as well as various art supplies, but all are welcome to bring your preferred tools or any personal objects you'd like to include in the piece.
Date: Wednesday, April 12th (for creating) and ongoing installation at Parnassus
Location: Smith 107, ongoing at Parnassus
Time: 7:00- 8:30PM
Take Back the Night: Queer Survivor Narratives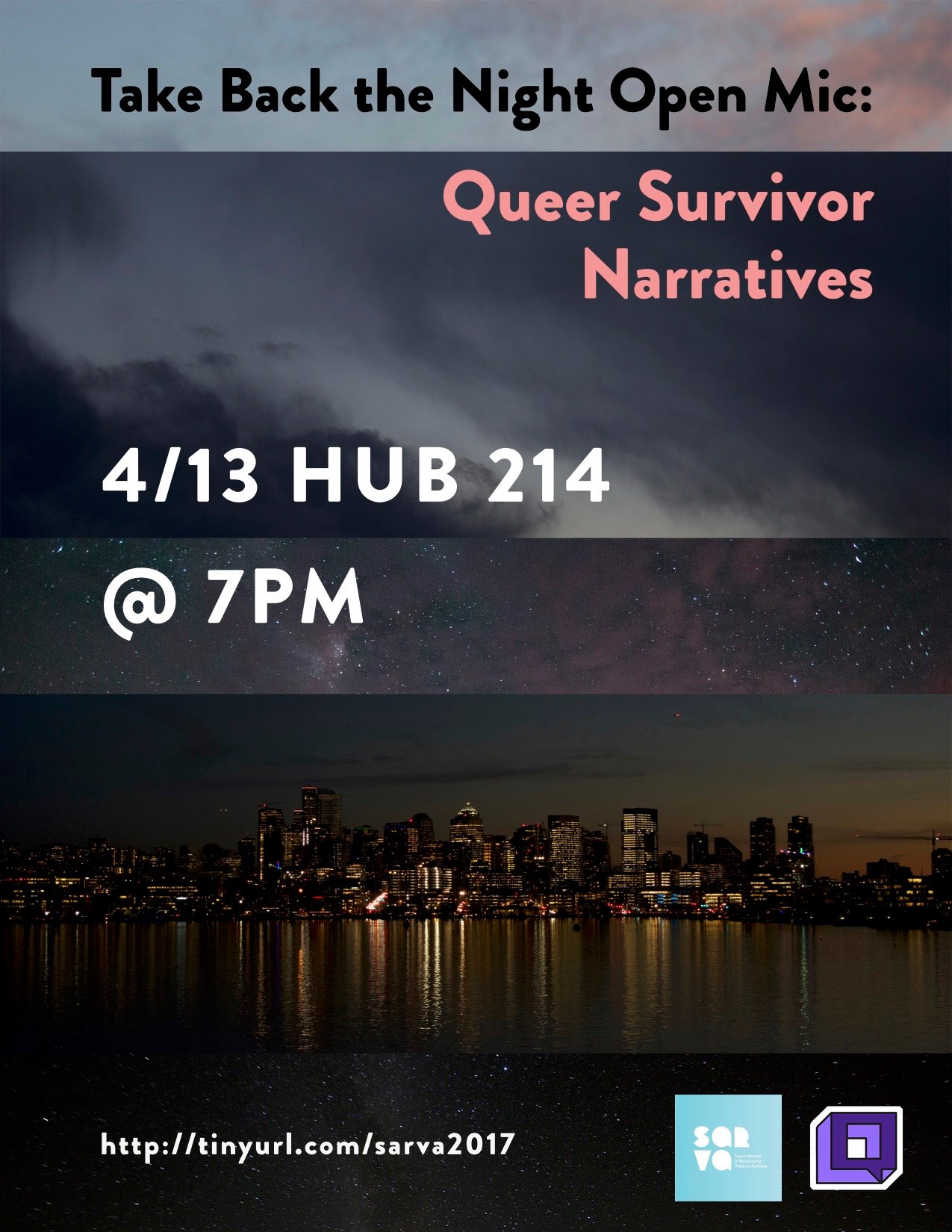 Hosted by: Leah, Q Center, QSC
Description: The Q Center and SARVA are partnering to put on  Queer centered Take Back the Night Event! This is an open event but we are intentionally centering the voices and experiences of Queer Survivors. Come share your story, or listen to other folks in this space, a testament to the resilience in our communities. submit your story at http:/tinyurl.com/sarva2017 either anonymously (to be read by somebody else within our community) or to be read by you!
There will be the UW Victims Advocate and Q Center Advisor present!
We seek to create safer spaces, and please contact the Q Center or email qlib@uw.edu if there is anything we can do to foster a better space for you.
Date: Thursday, April 13th
Location: HUB 214
7:00- 9:00
Rape in the Fields Screening
Description: In this documentary Frontline and Univision partner to tell the story of the hidden price many migrant women working in America's fields and packing plants pay to stay employed and provide for their families. This investigation shares the these women's experiences with sexual violence and exploitation. Join us for a movie screening and discussion about the intersections of violence.
Hosted by: Lindsay
Date: Tuesday, April 18th
Location: HUB 145
Time: 7:00-8:30
Escalation Workshop – Created by One Love Foundation
Escalation is a powerful, emotionally-engaging 90-minute film based workshop that educates college age students about relationship violence and empowers them to work for change. Escalation illuminates the warning signs of an unhealthy and potentially dangerous relationship. The film makes relationship abuse personal, causing participants to ask "What can I do to change this?" Join us workshop created by the One Love Foundation (http://www.joinonelove.org) and facilitated by the SARVA Staff. The first 20 participants will receive One Love Foundation stickers!
Hosted by: KP and Sarah
Date: Thursday, April 20th
Location: HUB 332
Time: 6:00-8:00
Take Back the Night Week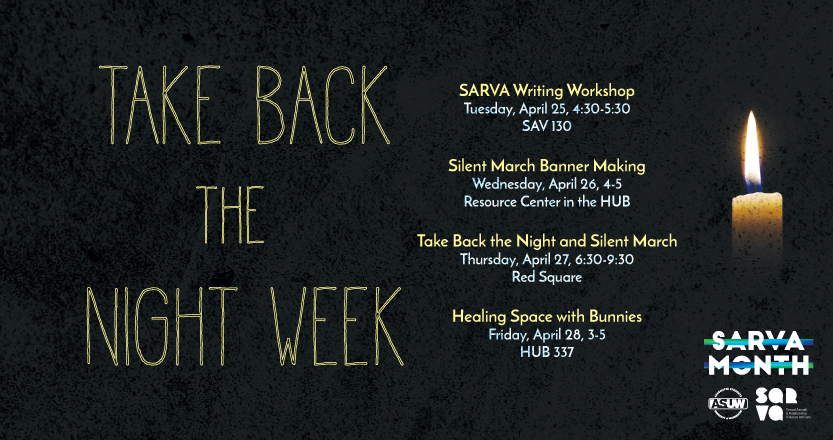 SARVA Writing Workshop
Hosted by: Katie
Description: Come talk and create something with the SARVA team at our writing workshop! This workshop will include reading poetry and/or short stories from sexual assault and relationship violence survivors and provide prompts to help us process some of the topics that we tackle throughout SARVA month. Writing can be a powerful tool to reflect on heavy topics and take a moment to process the world around us and how we feel in a constructive way. This will be an informal environment for students to work through and express feelings related to sexual assault and relationship violence through their writing. Whether you write frequently or not at all, we hope that this provides an opportunity for creative reflection and self care. We can discuss what we read, share what we write, take breaks with crafts, and even prepare pieces to be shared at Take Back the Night — all at our own pace. This is a space for members of our community to create something that helps and empowers them, whatever that may mean. We look forward to seeing you there!
Date: Tuesday, April 25th
Location: SAV 130
Time: 4:30-5:30PM
Silent March Banner Making
Hosted by: Katie, Lindsay, Maddie, KP and Kalin
Description: Join the SARVA team as we prepare for our Silent March by creating a large banner for our marchers to hold. We will also be creating flyers and posters to use to decorate the stage. Come to express your sentiments and meet members of our team. This event will be help in the Resource Center in the HUB which is to the right of the welcome desk. We will be set up at the tables in the left back corner! Stop by our office in HUB 131 (ASUW+ Suites) if you would like help finding us.
Date: Wednesday, April 26th
Location: RSO Resource Center – HUB
Time: 4:00-5:30PM
Take Back the Night and Silent March
Hosted by: SARVA Team
Description: Join us for a powerful evening to commemorate survivors and victims of sexual assault and relationship violence. This event will begin with a Silent March to demonstrate solidarity for survivors and to assert our community's dedication to making this campus a safe place. We will not tolerate sexual violence, hate crimes, discrimination, misogyny or prejudice now or ever. Afterwards we will host a Vigil where survivors can share stories or poetry that they prepared. If you would like to be a scheduled speaker please contact asuwdsa@uw.edu. Finally, we will have an open mic during which people may share their own stories and feeling about violence. While this event is open to all, the open mic portion is focused on the intentionally centering the voices and experiences of survivors and victims.
We seek to create safer spaces, please contact us at asuwadsa@uw.edu if there is anything we can do to foster a better space for you. The route for the march will be accessible for all!
Date: Thursday, April 27th
Location: Red Square
Time: 6:30-9:30PM
Healing Space with Bunnies
Hosted by: Kalin and Naji
Description: Healing Space with Bunnies is an opportunity to relax, practice self care and make some furry friends! It aims to conclude SARVA month by providing love and comfort to both survivors and allies.
Date: Friday, April 28th
Location: HUB 337
Time: 3:00-5:00PM
Check out our Calendar here: